This list of the best monitors for MacBook Pro is ideal if you're looking for extra screen space for your Apple laptop. The panels on those portables are incredible, and the resolution and brightness on the newest MacBook Pros will exceed that of many displays. If you're concerned at all about your viewing experience, you need a monitor that can do more than just transmit your laptop's video signal.
To be considered among the best MacBook Pro monitors, we've gathered monitors that not only have that USB-C connectivity – especially since that's the only way to connect most MacBooks to a display, unless you've got a dock for MacBook Pro. But which also have a fantastic display with accurate colour reproduction and wide viewing angles. Some of the monitors listed below are also compatible some important MacBook Pro accessories, from USB hubs that will let you add extra peripherals to ergonomic MacBook stands for a more comfortable setup. Whatever your workflow, from productivity to content creation, one of these monitors will help you streamline your workflow.
Not every monitor listed here will be right for you, however. All sorts of people own and use MacBook Pros, so you need to consider which monitor most fits your needs. Some are more suited for creative professionals with their wide colour gamuts and impeccable accuracy, while others are an affordable way to expand that screen real estate and help you organise your workflow. We've also included curved, ultrawide, and higher resolution options as well as different sizes and price points so that you'll find one that suits you.
If you're considering taking your whole setup to the next level, sneak a peek at our MacBook Pro 16-inch (2021) reviews. Or, maybe you know you want to stick with a higher resolution for your new monitor. Check out our guide for the best 4k monitors if that's the case. Elsewhere, Mac mini owners should read up on the best monitors for Mac mini.
The best monitors for MacBook Pro available now
You might not turn any heads with the Dell UltraSharp U2720Q on your desk. At least, while it's off. But, as soon as you power it up, you'll see why it's so highly rated. Its 4K resolution and excellent colour coverage – specifically 95% DCI-P3, 99.9% sRGB, and 99% REC 709 – means that images look sharp, vibrant, and, just as importantly, natural. And, that 27-inch panel means that you'll have plenty of extra screen real estate without having to sacrifice too much desk space to get it. And, with an ergonomic stand that can swivel, pivot, and tilt, as well as adjust vertically, it's easy to set it up just the way you like.
Of course, none of that would matter if it didn't come with that all-important USB-C port. It can charge your MacBook Pro even when running at full steam, thanks to its 100W power delivery. Additionally, its included USB hub will let you have a more permanent setup where you can easily connect and disconnect your Apple laptop with just one connection.
Of course, it's not a perfect monitor. Creative professionals, in particular, will be frustrated with its brightness, which is just average. However, if that's not a concern, you won't find a better all-around display for MacBook Pros on the market.
If you're looking for a much wider screen for your MacBook Pro, then the MSI Prestige PS341WU is for you. It comes with a 21:9 aspect ratio at 4K, meaning that its 5120 x 2160 native resolution will allow you to run UHD video without having to scale down and still have room to access all the editing tools you need at the same time. Even if you're not planning on doing a lot of video editing, that wide panel will allow you to keep all your apps, tabs, and windows open and accessible for an easier and less cluttered digital work environment. And, for those sporting a dual-monitor setup, the MSI makes for an easy replacement while also occupying less desk space.
Video editing also benefits from the MSI's colour support, specifically its 98% DCI-P3 and 450-nits of typical brightness, which is also enough to match that of most Apple laptops. And, for those looking for HDR support, this will get you in the door with its Vesa Certified DisplayHDR600.
For a panel this large, you wouldn't think the ergonomics wouldn't be all that great, but there's plenty of adjustability on hand. The one real drawback is that there's no Thunderbolt 3 or 4 support here. Outside of that, you have just about all the ports you could need, including a USB hub.
You don't have to empty your bank account to get a monitor that can satisfy the needs of a creative professional. The ASUS ProArt PA278CV may not reach quite the heights of some of the other creator-oriented displays on this list, but it comes close while setting you back much, much less. Add in some excellent features, and you're looking at quite an impressive monitor.
Between its 100% sRGB and Rec.709 support, colour accuracy of Delta E < 2, and out-of-the-box calibration, you'll be hard-pressed to find fault with its immaculate screen. It also allows for easy colour adjustments, from switching between various colour gamut modes to fine-tuning all sorts of parameters to get the screen looking the way you want. And, a fast 75Hz refresh rate and speedy response time mean that you'll have no trouble with motion blur when working on a video.
You are sacrificing UHD resolution for that more affordable price tag. But, if you're willing to work in 1440p instead of 4K, the USB-C connectivity with 65W power delivery and USB 3.0 hub more than makes up for it with that single cable connection. It also comes with an ergonomic stand and a smaller desk footprint, ideal for cramped workspaces.
It isn't easy to find an excellent USB-C monitor with 4K resolution that won't break the bank, but if you're on a budget, the best place to look is in Monoprice's lineup. Not that you need to look further than the impressive yet surprisingly cheap Monoprice 28in CrystalPro 4K whose attractive price is only surpassed by its high-quality trimmings.
Budget though it may be, this display comes with a USB-C port with 65W power delivery that allows you to connect your MacBook Pro to a monitor while charging it at the same time (although, if you have the more powerful 16-inch, you'll want to use its 96W charger). Also on offer here is an articulating stand, which lets you pivot, swivel, tilt, adjust the height, and switch to portrait mode as well as HDR support. This isn't the type of monitor you want for creative workloads, but it does have the contrast and colour reproduction that's great for productivity.
The built-in USB hub, which only has two downstream ports, and only 250 nits brightness might be a bit of a disappointment, but they're hardly deal-breakers. Journalists, novelists, coders, and business professionals will be more than happy with everything else.
Sometimes, the best workflows are those in which you can spread out, and that's what this almost 40-inch 4K monitor offers: space. Regardless of whether you simply like to stream Netflix while working or you need all that screen real estate for a more seamless creative process when video editing, the Dell UltraSharp U4021QW delivers it for you. In 4K no less.
If you are a content creator, you'll also be glad to know that this pick for the best monitors for MacBook Pro boasts 100% sRGB, 100% Rec. 709, and 98% DCI-P3 colour coverage. This display not only comes with gorgeous picture quality, but it does so with accurate and outstanding colours, which makes it even more ideal for photo editing, cinematic colour grading, and graphics design.
Of course, it's a boon to multi-taskers as well, especially those dealing with massive spreadsheets or several different apps on a daily basis. And, its picture-in-picture, picture-by-picture, and KVM (keyboard, video and mouse) features will let such users connect two separate laptops or computers and view them on a single screen without switching peripherals. After work entertainment? Its 9W speakers should work nicely in a pinch.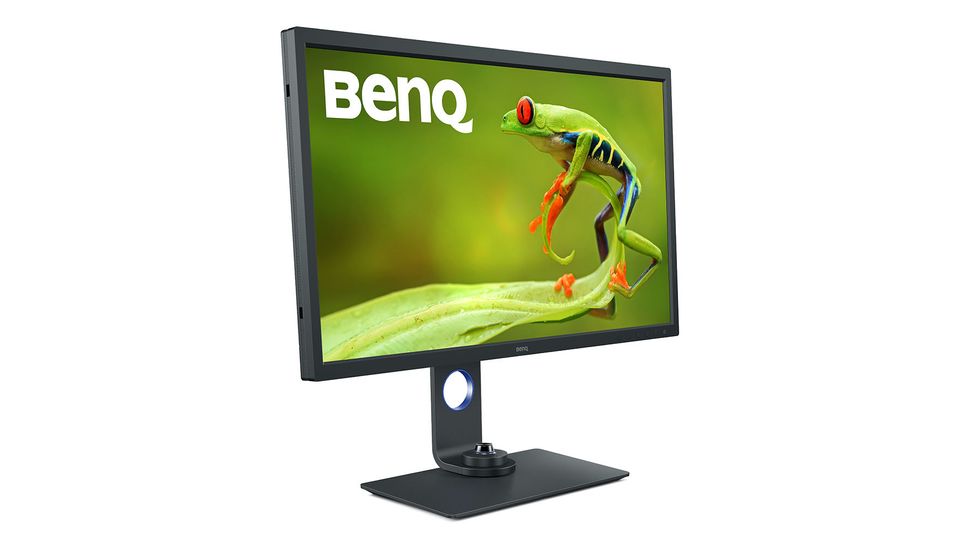 Apple's laptops are perennially popular with photographers, and if you're looking for the best monitor to edit photos on, the BenQ SW321C PhotoVue is it. The huge 32-inch screen and 4K resolution let you really get deep into detail – this thing really shows off any kind of creative work in all its glory.
It features a wide colour gamut of 99% Adobe RGB and 95% DCI-P3, essential for photographers. You can also easily tweak its calibration to mimic the kind of paper you're planning to print on, so you can specifically target that as your end result when editing. And, it is compatible with HDR10 and HLG formats for your HDR work. The included Hotkey Puck G2 and Shaded Hood are just nifty extras to help keep the focus on your creative process.
It's expensive, but if you're a photographer who works on a MacBook Pro, this is the best monitor you can buy right now.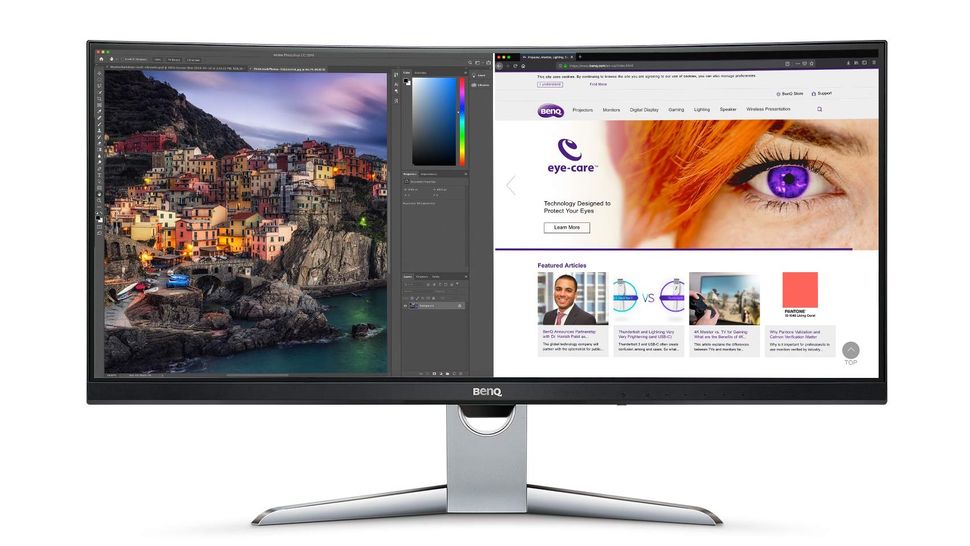 Ultrawide monitors are becoming more and more popular for work because they can basically be dual-monitor setups, but take up less space – great in this growing era of home offices.
This display is 35 inches diagonally, but don't be afraid that it's the size of a TV – it's a pretty standard monitor height, it's just wider. The resolution of 3440x1400 gives you much more space for keeping more tool palettes visible (or reference material, or email, or video conferencing, or anything else you need) right alongside your creative apps.
100% sRGB coverage means you can see colours just how you need them, and there's even HDR support (though, again, the brightness is too low for meaningful use of it for video work). It also supports up to 100Hz refresh rates, so digital artists looking for minimal lag will find a friend here (or it doubles nicely as a gaming display).
It turns out that if you want the best of the best monitors for MacBook Pro, you'll need a big ol' budget – who knew? Ah, but it's so worth it – in some ways, this could be top of our list, but the price and specific features are overkill for a lot of people.
The main draw of the Eizo ColorEdge CG319X is its self-calibrating nature of the screen. A built-in sensor will run regular checks to ensure what you're seeing is what you should be seeing, with no extra effort required from you. Who doesn't love essential equipment that self-calibrates?
Eizo's specialist software helps you choose the colour profile you want to work to, as well. The resolution is DCI Cinema 4K (4096x2160), in a 31.1-inch screen – you're getting a lot of real estate to work in here. It also has HLG HDR support for video compositing and grading (though the brightness isn't HDR rated), with 10-bit colour support and 98% DCI-P3 and 99% Adobe RBG coverage.
When we say this is the best monitor for MacBook Pro video work, we're not claiming that it's the equivalent of a true reference monitor – but if you want to work in HDR and need something more reasonable in price and more desk-friendly, this is exactly what you need.
This is all about 4K HDR video – 32 inches of 3840x2160 Ultra HD resolution lets you see your work at full quality, and its HDR1000 rating means you can test HDR at a level that matches or exceeds the vast, vast majority of TVs, backed up by 95% DCI-P3 colour support (and 99.5% Adobe RGB, 100% sRGB). The really key thing here is its mini-LED full-array backlight – this enables highly localised dimming of the backlight in areas where your footage needs to show dark areas, but should also be good for even colour reproduction for still images.
There are 384 dimming zones, which will still mean a small amount of blooming when light and dark areas are next to each other, but in general enables true high contrast viewing far beyond what anything else in this list can dream of. If you need even more precision, the ASUS ProArt PA32UCX-K is the souped-up version of this, hitting 99% P3 coverage and featuring an astounding 1,152 local dimming zones in the mini-LED backlight.
These days, portable monitors are becoming an inevitable part of a MacBook Pro user's arsenal. They're small and travel-friendly, keeping you mobile while giving you that extra screen real estate wherever you go. And, for that, the ProArt Display PA148CTV has our vote.
This 14-inch wonder might cost a bit more than you'd be willing to pay for a portable monitor, but trust us when we say that it's worth the price and more and more than worthy of this list of the best monitors for MacBook Pro. That's especially if you're a content creator with very specific colour coverage needs, as it delivers 100% sRGB and 100% Rec. 709 colour spaces. It's also factory pre-calibrated to provide a Delta E < 2 colour difference and boasts Calman Verified certification.
For a more seamless creative workflow, it also offers professional creatives the Asus ProArt Palette so they can make their own specific display setting tweaks using the Asus Dial built-in, as well as its Control Panel feature, which allows it to function as an editing console.
No expense has been spared in terms of its panel either, which comes with an anti-glare coating so you can work in full sunlight with very minimal colour shifts.
Is the MacBook Pro compatible with all monitors?
The short answer is yes, mostly. While most MacBook Pros come with a pretty limited port selection, typically a couple of USB-C ports, there are Mac-compatible dongles for just about every type of connectivity. Unfortunately, that does mean you'll have to invest in an adapter to use those Apple laptops with monitors that don't have USB-C connectivity. Of course, owners of the most recent 14- and 16-inch MacBook Pros won't have to worry about that since they come with HDMI ports.
With that said, a few monitors have had issues connecting to M1 MacBook Pros sporting the latest macOS. If you're considering a monitor that doesn't natively support Thunderbolt / USB-C connectivity, you'll want to see if others have had software-related issues and if the manufacturer has updated the firmware to address the issue. For full details see our post on how to connect a monitor to MacBook Pro.
How do I choose a monitor for a MacBook Pro?
Though you can use just about any monitor with your MacBook Pro, there are a couple of considerations to consider if you want to make the most of your new display. USB-C connectivity is ideal. Only the newest 14- and 16-inch Macbook Pros come with HDMI ports while all other models are limited to USB-C ports for connecting to external displays. And, while it's not necessary, most USB-C capable monitors can deliver power via that USB-C cable. If you prefer a one-cable solution, you'll want to ensure you're getting enough power from the monitor.
If you're hoping to do any kind of content creation on your Apple laptop, then having a wide colour gamut coverage is crucial. Look for 97% DCI-P3 or higher. You'll also want a resolution to match your portable's. Using a 4K monitor between 24 and 32 inches will provide a viewing experience similar to that of your MacBook Pro's retina display.
Can a MacBook Pro support a 4K monitor?
MacBook Pros are incredibly powerful for their thin and lightweight design. Not only are they more than capable of driving a 4K monitor, but more recent models can drive even higher resolution displays. The 13-inch M1 MacBook Pro, for example, can drive a 6K display at 60Hz while the 14- and 16-inch M1 Pro models can drive two.
Related articles: